Goel…
What is a Goel?
What does it have to do with Christmas?
Here is what Wikipedia has to say about Goel:
Goel (go'el) is a Hebrew term which comes from the word lig'ol ("to redeem"), hence meaning "redeemer", which in the Bible and the rabbinical tradition denotes a person who as the nearest relative of another is charged with the duty of restoring the rights of another and avenging his wrongs.
In the Authorized King James Bible, it is rendered
"kinsman", "redeemer" and "avenger".
In ancient Hebrew customs exists the Law of Goel.
In the event a woman looses her husband to death, the kinsman of that husband (uncle, brother etc…) can marry that woman, becomes one with her and makes her fruitful to redeem the family name.
A Goel is mentioned several times in the Bible.
The first, Judah and Tamar in Genesis 38.
One of the more famous stories featuring a Goel is in the
Book of Ruth.
I would suggest you read this book of the Bible.
It is only 4 chapters long.
Even though I am using a lot of scripture to tell this story,
I am only paraphrasing here:
The story takes place in Bethlehem.
Ruth was a Moabite who marries into an Israelite family.
Ruth's husband dies.
Rather than returning to her homeland and family,
Ruth chooses to stay with her husband's mother, Naomi.
(Naomi is also a widow)
Ruth tells Naomi this:
Where you go I will go, and where you stay I will stay. Your people will be my people and your God my God. Where you die I will die, and there I will be buried. May the Lord deal with me, be it ever so severely, if even death separates you and me.     Ruth 1:16-17
One day, Ruth went to pick up leftover grain from
a land owner's field for food.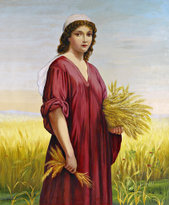 And Ruth the Moabite said to Naomi, "Let me go to the fields and pick up the leftover grain behind anyone in whose eyes I find favor." 
Ruth 2:2
Boaz, the land owner, noticed Ruth and asked who she was.
Boaz asked the overseer of his harvesters, "Who does that young woman belong to?" The overseer replied, "She is the Moabite who came back from Moab with Naomi. She said, 'Please let me glean and gather among the sheaves behind the harvesters.' She came into the field and has remained here from morning till now, except for a short rest in the shelter." Ruth 2:5-7
Boaz greeted her, fed her bread and told her she could work in the fields with his workers and they will not harm her.
Ruth asked Boaz, "Why are you doing this?"
Boaz replied, "I've been told all about what you have done for your mother-in-law since the death of your husband—how you left your father and mother and your homeland and came to live with a people you did not know before. May the Lord repay you for what you have done. May you be richly rewarded by the Lord, the God of Israel, under whose wings you have come to take refuge."   Ruth2:11-12
Ruth returned excited to share with Naomi the day's events.
Then Ruth told her mother-in-law about the one at whose place she had been working. "The name of the man I worked with today is Boaz," she said.
Noami realized that this was family.
Boaz was a kinsmen.
"The Lord bless him!" Naomi said to her daughter-in-law. "He has not stopped showing his kindness to the living and the dead." She added,
"That man is our close relative;
             he is one of our guardian-redeemers.             
Ruth 2:20
A Goel.
So after a while, Noami instructs Ruth to do this:
One day Ruth's mother-in-law Naomi said to her, "My daughter, I must find a home for you, where you will be well provided for. Now Boaz, with whose women you have worked, is a relative of ours. Tonight he will be winnowing barley on the threshing floor. Wash, put on perfume, and get dressed in your best clothes. Then go down to the threshing floor, but don't let him know you are there until he has finished eating and drinking. When he lies down, note the place where he is lying. Then go and uncover his feet and lie down. He will tell you what to do."
 Ruth obeyed and followed Naomi's instruction.
"I will do whatever you say," Ruth answered. So she went down to the threshing floor and did everything her mother-in-law told her to do.
Amazing right?
This is what happens later that night.
When Boaz had finished eating and drinking and was in good spirits, he went over to lie down at the far end of the grain pile. Ruth approached quietly, uncovered his feet and lay down. In the middle of the night something startled the man; he turned—and there was a woman lying at his feet!
"Who are you?" he asked.
Someone (Ruth) was laying at Boaz's feet when he wakes
up in the middle of the night.
All he appears to say is…
Who are you?
"I am your servant Ruth," she said. "Spread the corner of your garment over me, since you are a guardian-redeemer of our family."
"The Lord bless you, my daughter," he replied. "This kindness is greater than that which you showed earlier: You have not run after the younger men, whether rich or poor. And now, my daughter, don't be afraid. I will do for you all you ask. All the people of my town know that you are a woman of noble character. Although it is true that I am a guardian-redeemer of our family, there is another who is more closely related than I. Stay here for the night, and in the morning if he wants to do his duty as your guardian-redeemer, good; let him redeem you. But if he is not willing, as surely as the Lord lives I will do it. Lie here until morning." Ruth 3:1-12
Boaz went to ten elders of the town and discussed his desire
to redeem Ruth.
It was complete.
Boaz and Ruth married.
Ruth later conceived and gave birth to a son, Obed.
Then Naomi took the child in her arms and cared for him. The women living there said, "Naomi has a son!" And they named him Obed. He was the father of Jesse, the father of David.
Ruth 4:14-17
The ultimate Goel was born in Bethlehem.
In a manger.
Jesus.
Jesus is our Goel.
Our Redeemer.
Our Kinsman.
Our Avenger.
God entered the line of man and creation to redeem our lives.
Jesus, Goel's our lives from the pit and death.
We become His bride.
Jesus marries us.
Paul says it like this in 2 Corinthians 11:2;
For I am jealous for you with godly jealousy, because I promised you in marriage to one husband, to present you as a pure virgin to Christ.

He becomes one with us (through His Spirit)
and He makes us fruitful.
A beautiful love story.
A beautiful story of love.
Noel, our Goel!
What a gift He has given!